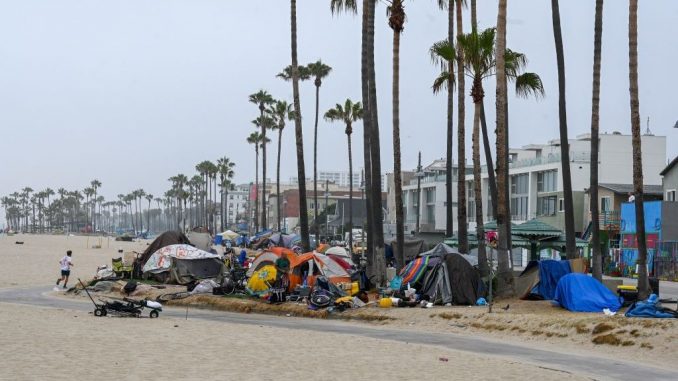 OAN Newsroom
UPDATED 8:38 AM PT – Sunday, July 4, 2021
Los Angeles has launched a plan to clean up Venice Beach's homeless camps. Last week City Councilman Mike Bonin said the Venice Beach Encampment to Home program will find alternative housing for all people living along the boardwalk over the next six weeks.
Bonin added they will not issue threats of incarceration, but are instead teaming up with St. Joseph's Center to offer housing, shelter and services in efforts to get people off the boardwalk. On Thursday, the Los Angeles City Council voted on a $5 million fund for interim housing.
By building trust and offering solutions, staff with @StJosephCtr and @LAHomeless helped 74 people move indoors as of Thursday as part of our Venice Beach Encampments to Homes program. Keep up the great work! pic.twitter.com/k1FpCTKsFW

— Mike Bonin (@mikebonin) July 2, 2021
"We're launching a major effort to confront the homelessness crisis at Venice Beach, address the safety needs of the housed and the unhoused, and fully reopen the park and beach for general public use. How? We're offering housing, not handcuffs," Bonin tweeted.
In the meantime, the Bureau of Sanitation has continued to clean the area and flyers are being posted outlining a plan to restore normal hours of operation of the beach.