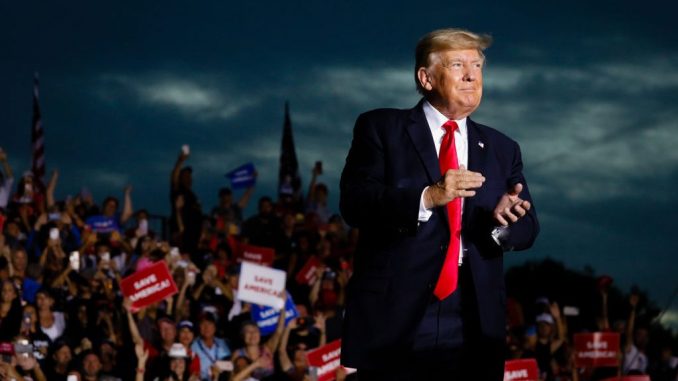 OAN Newsroom
UPDATED 2:06 PM PT – Sunday, July 4, 2021
President Donald Trump took the stage in Sarasota, Florida on Saturday, heading into the Fourth of July weekend, in a massive rally in support of the MAGA agenda. Trump touched on a number of subjects as the 45th president shared his thoughts on everything from the election to China.
Speaking on the southern border, Trump noted how Joe Biden has "intentionally dismantled the border," allowing cartels, smugglers, drug dealers, murderers and gang members to infiltrate the country. He said just half a year ago the U.S. had the safest border in history and now it has the worst.
"We are witnessing an illegal mass migration that is planned, facilitated, funded, aided and abetted by the far-left Democrats who thanks to a totally rigged and dishonest election, now control the United States government," Trump announced to the crowd.
Trump went on to call the U.S. election system "sick," saying he's not the one trying to undermine American democracy, but rather the one trying to save it. He added, Democrats are working to take away free speech by creating a system for media and online censorship that only showcases the Democrat Party's view, which he alleged is taking away free speech so the public can't talk about corrupt elections.
Trump said the Democrats used the COVID-19 pandemic to cheat by illegally changing the rules in key states. Trump also blasted Biden's tax hikes, calling them the biggest in history while he gave the public the biggest tax decrease in history. He added that before the pandemic hit, he and Republicans built the greatest economy in the history of the world.
"Remember, we passed record-setting tax cuts. We imposed massive regulation cuts. We adopted pro-American energy policies and achieved…oh, it's so sad to say it because you won't be seeing it anymore," stated the 45th president.
Trump also touched on the "defund the police" movement, saying Democrats are using misinformation to put the blame on Republicans. He pointed out how many Jan. 6 protesters have been imprisoned while BLM and Antifa rioters continue to go free.
He also blasted the fraud and conspiracy charges filed against the Trump administration and its' chief financial officer, calling it a "terrible thing." Last week, Trump called the charges a "political witch hunt by the radical left," saying it's dividing our country like never before.
Trump concluded by saying he'll continue working to help secure support for Republicans and the MAGA agenda in the 2022 midterms, with the goal of retaking the House and the Senate.