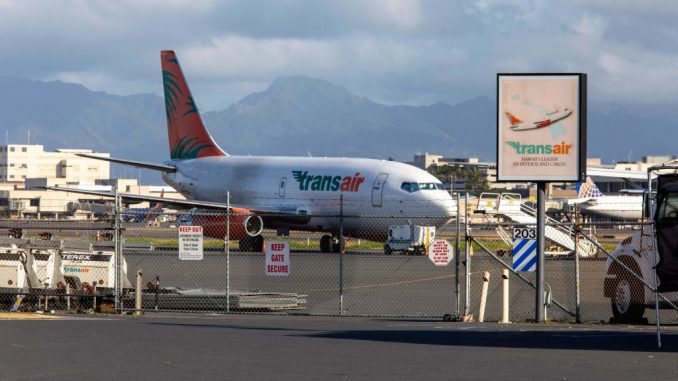 OAN Newsroom
UPDATED 1:30 PM PT – Friday, July 2, 2021
Boeing shares have slipped after a 737 cargo jet made an emergency landing off the coast of Hawaii. Authorities said two pilots were rescued early on Friday after the plane went down near Oahu.
The pilots reported engine issues with the Boeing aircraft about 12 minutes after taking off from the Honolulu airport. Additionally, Lt. Commander Karin Evelyn, a spokesperson for the U.S. Coast Guard, confirmed the plane experienced an engine malfunction shortly after take-off.
A 737-200 cargo aircraft operated for Transair by Rhoades Aviation made an emergency landing in the water near Honolulu after reportedly suffering engine trouble. The FAA reports that both crew members have been rescued. ADS-B data is available at https://t.co/lsdJ4WlkHy pic.twitter.com/8D71tEQ3wy

— Flightradar24 (@flightradar24) July 2, 2021
"One survivor was located on the tail of the aircraft, went into the water as the plane sunk, and was hoisted by the MH-65 and transported to Queen's Medical Center for evaluation," said Evelyn. "The other survivor was located on top of some floating packages, declined a hoist, and was picked up by a Honolulu Fire Department rescue boat for transport to shore."
One pilot is reportedly in critical condition while the other is listed in serious condition. The incident will be investigated by the Federal Aviation Administration and the National Transportation Safety Board.
This comes after 737 max jets were recently returned to service after being grounded following two deadly crashes.