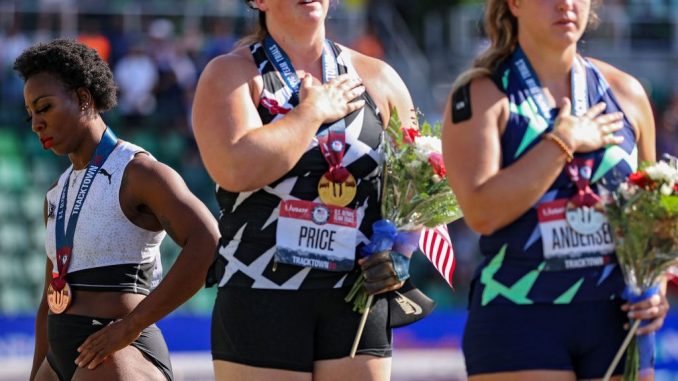 OAN Newsroom
UPDATED 2:23 PM PT – Wednesday, June 30, 2021
Olympian Gwen Berry is facing backlash for protesting the American flag after placing third at the hammer throw tryouts. Since Saturday's trials, she has done her rounds on the media to explain why she thinks the flag she is representing on a global stage never actually represented her at all.
Speaking to BNC News, Berry implied she was set up by the instruction the athletes were given regarding the playing of The Star-Spangled Banner. Berry suggested the athletes were not advised they would be required to stand on the podium while the National Anthem was being played.
When asked why she was uncomfortable standing for the National Anthem, she claimed if people knew history they would also be opposed to the song.
"History. If you know your history, you know the full song of the National Anthem. The third paragraph speaks to slaves and America," said Berry. "Our blood being slain…all over the floor. It's disrespectful and it does not speak for Black Americans."
Representing the U.S. for nearly a century, the snubbing of the anthem is particularly jarring to many Americans, especially by someone who is supposed to represent the U.S. on a global stage. This has led to many calling for Berry to be booted from the team.
Stop playing with me pic.twitter.com/WLN3clqOCM

— Gwen Berry OLY (@MzBerryThrows) June 27, 2021
Even The View's Meghan McCain claimed Berry was helping push foreign propaganda and putting national security at risk. "The problem I have is this woman is doing this internationally and if anyone saw Vladimir Putin's recent speech…we're having our enemies and propaganda dictators using our own propaganda against us which in turn turns into a real national security risk," said McCain.
McCain closed out with a fiery defense of America and why athletes shouldn't trash their country globally. "It is not appropriate or patriotic to go to a foreign country where you're supposed to be representing America and act like it's just about you," stressed McCain. "It's not about you, it's about all of us."
Unfortunately, the focus on third place Berry has taken away from discussions surrounding first place winner Deanna Price, who shattered an American record. She is only the second woman in the world to have ever thrown past 80 meters.
This throw secured her a spot on the Olympic team. Price is hoping to break the world record at the games in Tokyo. She needs to add just 2.6 meters to her current personal best in order to claim that record.