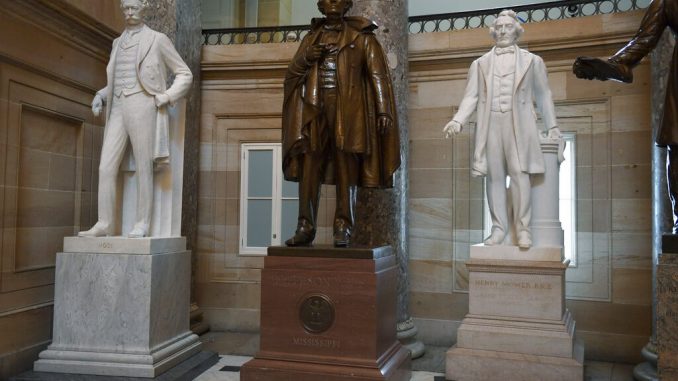 OAN Newsroom
UPDATED 10:06 AM PT – Wednesday, June 30, 2021
The House passed a measure seeking to remove artwork of Confederate leaders or those that supported slavery from the Capitol Building. The vote Tuesday saw bipartisan support, but was split among Republicans with 67 voting in favor of the bill and 120 voting against it.
The bill orders the removal of more than half a dozen Confederate statues on display, including Confederate President Jefferson Davis. Several Republicans slammed the legislation while asserting it was a power grab by Democrats over states already working to replace the statues.
"I'll vote for this bill today, just as I voted for it before," stated Rep. Kevin McCarthy (R-Calif.). "But, Madam Speaker, if we have not learned anything, we should not divide our nation based on race."
Democrats are desperate to pretend their party has progressed from their days of supporting slavery, pushing Jim Crow laws, and supporting the KKK.

But today, the Dem Party has simply replaced the racism of the Klan with the racism of Critical Race Theory https://t.co/FJtnaFK19U

— Kevin McCarthy (@GOPLeader) June 29, 2021
According to current rules, a statue can only be removed if the state government that contributed to it gives authorization. A statue of General Robert E. Lee was removed from the Capitol Building in December at the request of Virginia state leadership.