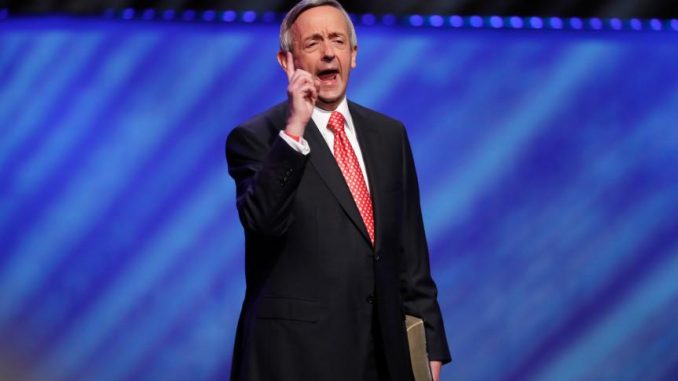 OAN Newsroom
UPDATED 4:40 PM PT – Monday, June 28, 2021
A Texas pastor has called on Americans to stand up for the First Amendment and warned religious liberty was not safe under the Biden administration. In an interview with WBAP over the weekend, Dr. Robert Jeffress said it has been clear Joe Biden has become weak and aimless on First Amendment rights.
The Pastor of First Baptist Dallas Church was asked to weigh in on a recent effort by the far-left to push a case through the court system, which aims to block religious schools from receiving federal funds. Biden's Department of Justice initially promised to "vigorously" defend the interests of religious liberty for Christian public colleges and universities.
Jeffress criticized Biden for quickly caving to backlash from the radical left and amending the words "vigorously" and "ultimate objective" from the court filing.
"The Biden administration responded by saying we will 'vigorously' defend the religious exemption and they got such backlash from the LGBTQ community that they quickly revised their filing and removed their word vigorously," he explained. "The fact is they're not going to defend religious liberty at all."
During the interview, Jeffress also pointed out religiosity is central to America's founding and cited many quotes and documents used by the majority of our Founding Fathers that come straight from the Bible.
"It can be concluded that the Bible, perhaps more than the Constitution, is America's founding document," he expressed. "…So many of our ideas about freedom and governance come straight from the Bible."
Jeffries also argued Biden has created a culture that is hostile to this.
"America is a Christian nation. You can't look at our history and deny that fact," he asserted. "The fact is, there are people not only trying to cancel that truth, they are trying to erase our history."
Jeffries went on to mention he does not believe God wants Americans to put their heads in the sand and be unaware of how deeply the Biden administration is changing the nation's culture. He argued the nation is becoming "more ungodly" every day in consideration to how quickly Biden has transformed America from the most pro-life nation under President Trump and has become the most pro-abortion leader in history.
Biden used to SUPPORT the Hyde Amendment, but this year, he let the radical left dictate his budget and excluded important Hyde protections that safeguard taxpayer dollars from funding abortions. pic.twitter.com/xTMcF1N9jl

— Congresswoman Debbie Lesko (@RepDLesko) June 21, 2021