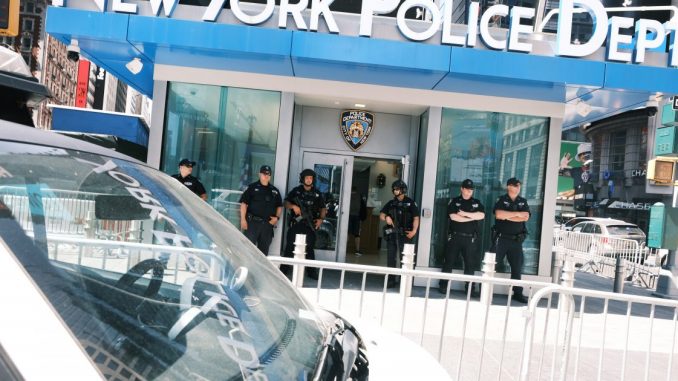 OAN Newsroom
UPDATED 7:09 PM PT – Monday, June 28, 202
A manhunt has continued in New York for a gunman who shot an innocent bystander in Times Square. The New York Police Department announced the gunfire erupted on Sunday after a dispute between the shooter and several street vendors occurred.
Surveillance video showed the suspect pulling out a gun and firing several shots before fleeing the scene. 21-year-old Samuel Poulin was hit in the back by a stray bullet and rushed to the hospital where he is in stable condition. Reports said Poulin is a recent military college graduate who was visiting New York City with his family.
"It was a loud pop. At first we thought it was firecracker," bystander Sydney Santana explained. "…A lot of people visit from other places so I wish that didn't happen at all, but it really is bad it happened in Times Square."
WANTED for an Assault: On Sunday June 27, 2021 at approx. 5:15 P.M., in the vicinity of West 47st. and 7th Ave. @NYPDMTS a unknown individual shot a 21 year old innocent bystander causing serious injury Call @ 800-577-TIPS or DM NYPDTips Reward up to $3500 pic.twitter.com/j199kR3iYj

— NYPD Crime Stoppers (@NYPDTips) June 28, 2021
This is the second shooting to happen in Times Square in the past two months. In May, a 4-year-old child and two women were shot after a group of men got into an argument, with one man pulling out a gun and firing at another.
The NYPD is now ramping up security in the city as more visitors are expected in the coming months.