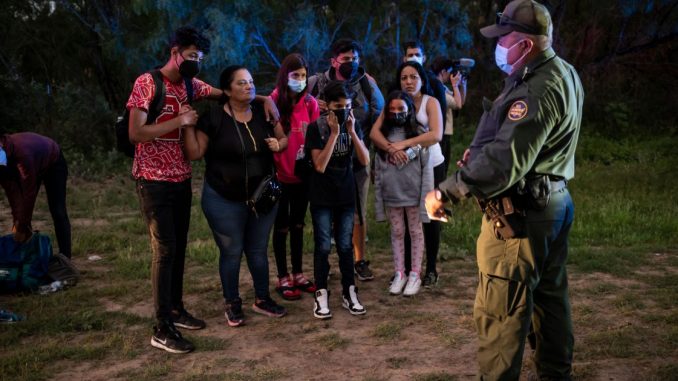 OAN Newsroom
UPDATED 2:05 PM PT – Monday, June 28, 2021
Customs and Border Protection agents have been overwhelmed with an increase in  illegal immigrants who flooded the southern border. Footage from the Del Rio Sector released on Monday showed a group of Venezuelan immigrants upon their arrival to the border, despite the looming presence of Border Patrol agents.
Sector Chief Austin Skero II noted the appearance of an open-door policy has prompted a dramatic rise in attempted entries. Nearly 7,500 immigrants were caught at the border in May, which has been more than any month in the last 14 years.
"They have no fear whatsoever of us. You know, they're coming to surrender," he explained. "They're coming to give up. They want us to catch them."
Del Rio Sector Chief Patrol Agent Austin Skero on migration surges: "it's never been this bad, I'll tell you that straight up" pic.twitter.com/0pt99LqCgs

— RNC Research (@RNCResearch) June 24, 2021
The number of Venezuelan immigrants has increased amid crackdowns from the dictatorial regime of Nicholas Maduro, which has caused Venezuelans to flee their country.
"We've had doctors, a petroleum engineer yesterday, as well as university professors that have come through our organization recently," Tiffany Burrow of the Val Verde Border Humanitarian Coalition stated. "These folks are prepared financially."
There is a crisis at our southern border, a crisis created by this administration's failure to stick with the sound immigration policies we put in place.

— Mike Pompeo (@mikepompeo) June 24, 2021
Reports of the U.S. welcoming any and all who enter has given many immigrants the green-light needed to try to cross the border. With the removal of Trump-era policies, such as the Remain in Mexico Policy, individuals assume they will be allowed to cross with no questions asked.
After releasing the footage, Associated Press confirmed one of the women profiled in the video had already been let into the country and was now somewhere in Del Rio.