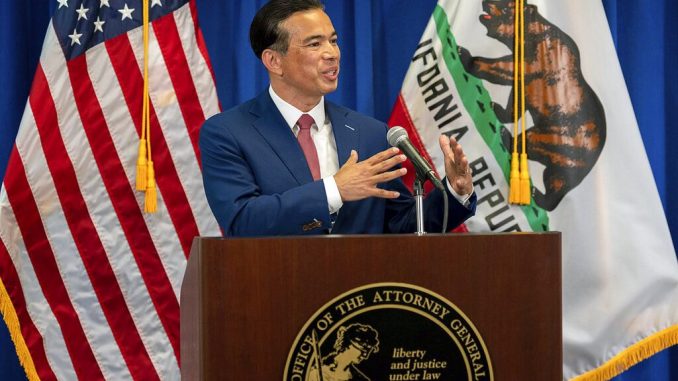 OAN Newsroom
UPDATED 9:52 AM PT – Tuesday, June 29, 2021
Woke California lawmakers passed legislation banning state-funded travel to five additional states whose stance on transgender and LGBTQ rights do not align with California's. The state's far-left attorney general, Rob Bonta, announced the ban on Monday and said he's committed to protecting transgender children from "a recent dangerous wave of discriminatory new bills signed into law in states across the country."
"California is adding the following five states to our restrictions list: Arkansas, Florida, Montana, North Dakota and West Virginia," Bonta stated. "Of those states, most are being added in part because they are working to prevent transgender women and girls from participating in school sports consistent with their gender identity."
Meanwhile, many have accused the California's attorney general of using divisive tactics to target conservative states. Of the now 17 states on California's "no fly list," not one voted for Joe Biden in the 2020 presidential election. This suggests the restrictions are not about protecting LGBTQ rights, but rather about preventing the spread of conservatism.
#BREAKING: As a result of recently enacted anti-LGBTQ+ legislation, California will — pursuant to state law — restrict state-funded travel to:

• Arkansas
• Florida
• Montana
• North Dakota
• West Virginia#AB1887 is about aligning our dollars with our values. pic.twitter.com/w94GB20nI6

— Rob Bonta (@AGRobBonta) June 28, 2021
Bonta went on to say California is only going to spend money on travel to state's whose values align with their own.
"Let me start by saying I don't know that its punitive so much as it's aligning how we spend our dollars in California, how we choose to spend our dollars consistent with our values," he stated. "We want to spend on state travel when our employees and our people are going to states that have values similar to ours."
Meanwhile, some states on California's list have argued the ban is unconstitutional. Back in April, the Supreme Court declined to hear a challenge brought fourth by Texas Attorney General Ken Paxton (R) who argued the California law is a misguided attempt to police other states.
Bonta did not provide information on the financial impact the travel ban will have on the 17 listed states.