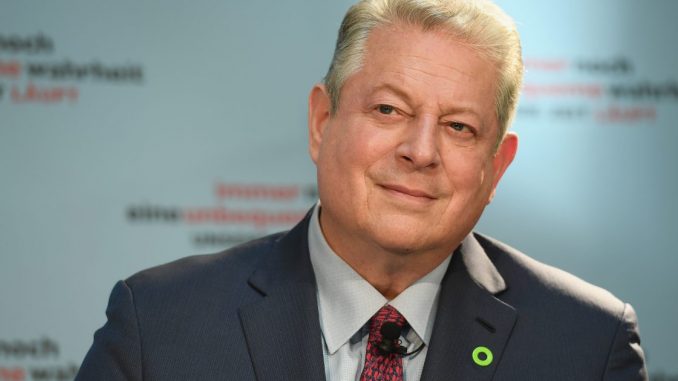 OAN Newsroom
UPDATED 8:22 PM PT – Monday, June 28, 2021
Failed presidential candidate Al Gore has claimed Republicans have been in a so-called "alternate reality" for trying to safeguard election integrity. In an interview on Sunday with CNN, Gore said Republicans are "hurting the country" by not accepting the results of the 2020 election.
Gore challenged the results of the 2000 election when he lost to President George W. Bush, but didn't hesitate to criticize the Arizona audit as well as the third party experts conducting it.
"We keep getting this nonsense, like this foolish exercise to bring in some cyber ninja group in Arizona to look for bamboo in the ballots there," he claimed. "It's absolutely nuts."
? #ArizonaAudit is the most secure, transparent, comprehensive election audit in modern history.

Everything is being recorded by multiple cameras above each table and nine wide-angle feeds are being livestreamed 24/7

⚠️ Election integrity is #1 issue in this country!

(Part 1) pic.twitter.com/eTZKmitw9g

— D Alex (@D_Alex_connect) June 25, 2021
Gore went on to say we all must "acknowledge the will of the American people" and mocked Republicans who are "still enthralled" to President Trump. The former vice president, who in 2009 predicted the North Pole would be without ice in five years, accused Republicans of believing an "alternate reality."
Gore also praised Joe Biden on "facilitating a strong economic resurgence" among other achievements.
"Joe Biden's popularity continues to rise," he claimed. "Look at what he's done in controlling the pandemic. Look at what he's done in facilitating the incredible economic resurgence."
Gas prices skyrocket. Housing too high for first time buyers. Food prices are rising. All since Biden became President. America cannot afford Democrat policies! #BidenInflation #PainAtThePump pic.twitter.com/aZnCtyMu4o

— Arizona Republican Party (@AZGOP) June 25, 2021
However, Gore did not touch upon the current uncontrollable rise in inflation or the talks of a trillion dollar infrastructure package, which are things that experts are calling the antithesis of a "strong economic resurgence."
Meanwhile, the Republican so-called "alternate reality" is becoming more popular by the day as the Arizona audit has attracted officials from several states in the nation to visit in hopes of multiplying Arizona's effort to expose any kind of fraud and protect the integrity of U.S. elections.