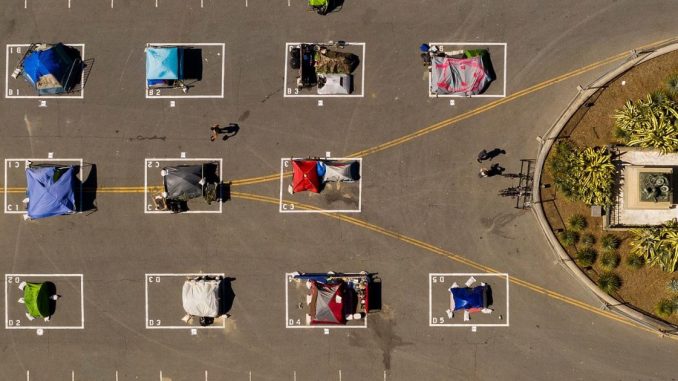 OAN Newsroom
UPDATED 10:36 AM PT – Monday, June 28, 2021
San Francisco's "safe sleeping" tent encampments appear to have a steep price tag with critics questioning the program's expensive costs. The program costs more than $60,000 per tent each year.
In a recent meeting, San Francisco city staff requested $20 million over the next two fiscal years in order to continue operating six "safe sleeping" tent encampments that were initially created during the coronavirus pandemic. The program provided a place for homeless people to social distance.
In its first year, it cost around $18.2 million for around 260 tents. A staffer said of the $18 million the city has spent on "safe sleeping" sites, around $1.2 million was going towards showers, $3 million was going towards providing onsite meals and $13 million was going towards staffing and security. Supervisor Hillary Ronen said she was confused as to why the city was paying such a high cost.
"It is a big deal to have showers and bathrooms and I don't dispute that, in any way shape or form, but the cost just doesn't…it just doesn't make any sense," she expressed.
The safe sleeping sites are said to be needed to keep homeless out of hotels, where they were originally relocated early on in the pandemic. One of the reasons the "safe sleeping" sites are expensive is due to needing to rent the extra amenities, which is something that the city could look into purchasing instead of renting in hopes of bringing down costs.
The department is now asking for $15 million for a similar number of tents this next fiscal year, which would still see a high price tag for the city even though it reflected cost reductions. Some of the sites are said to be operated by non-profits while the tent program is financed through a business tax measure that was passed by voters in 2018. Supervisor Ahsha Safai asked if there was a way to reduce the numbers.
"Has there been any attempt to reduce the cost per tent for services per individual to bring that number down?" he questioned. "It still calculates out, when you factor in all the services at the site, it's $57,000 an individual."
The director of the Department of Homelessness and Supportive Housing believes the city should maintain the tent program due to shelter limitations and the upcoming closure of some hotels. Supervisor Safai believes the committee is going to take a "strong look" at safe sleeping with hopes of potentially shifting into other areas of shelter-related work.