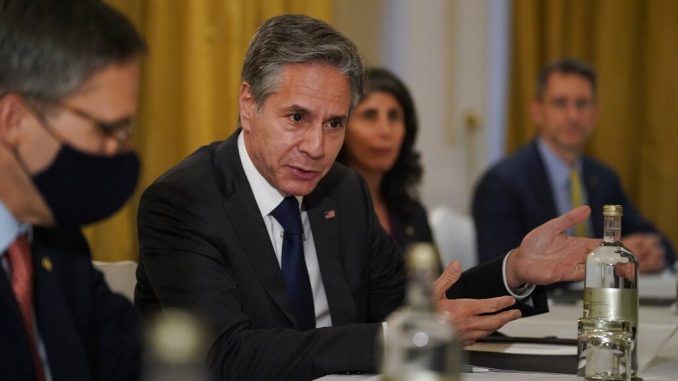 OAN Newsroom
UPDATED 10:16 AM PT – Monday, June 28, 2021
The new Israeli government and Joe Biden signaled that they are willing to give concessions to Hamas terrorists, in turn, downplaying President Trump's accomplishments.
On Sunday, U.S. Secretary of State Antony Blinken met with Israeli Foreign Minister Yair Lapid in Rome while looking to turn a new page at the pair's first in-person meeting since Israel swore in its new government. In praising the alliance between the two countries, Lapid also noted disagreements amid ongoing negations regarding the Iran nuclear deal.
"We will have disagreements, but they are not about the essence, they are all about how to get there," he stated. "We want the same things we sometimes disagree about how to achieve. Israel has some serious reservations about the Iran nuclear deal that is being put together in Vienna."
Blinken downplayed President Trump's Abraham Accords by telling his Israeli counterpart they do not apply to Palestinian groups and Israel should open separate talks with the Palestinian authority to discuss their disagreements directly.
"I think we've also discovered or perhaps rediscovered that as important as they are, as vital as they are, they are not a substitute for engaging on the issues between Israelis and Palestinians that need to be resolved," noted the U.S. Secretary of State.
Israeli diplomats said their new government may be willing to give some concessions to Arab radicals.
"I look forward to working with you to widen the circle of peace in our region, that is the best way to bring stability and prosperity to the Middle East," Lapid continued. "We will discuss a range of issues which concerns Israel, including strengthening our ability to defend ourselves, working to minimize conflict between us and the Palestinians while making life better for Israelis and Palestinians alike."
The sides agreed to deepen U.S.-Israeli dialogue amid ongoing threats to destroy the Jewish State by Iranian-backed terror groups Hamas and Hezbollah.