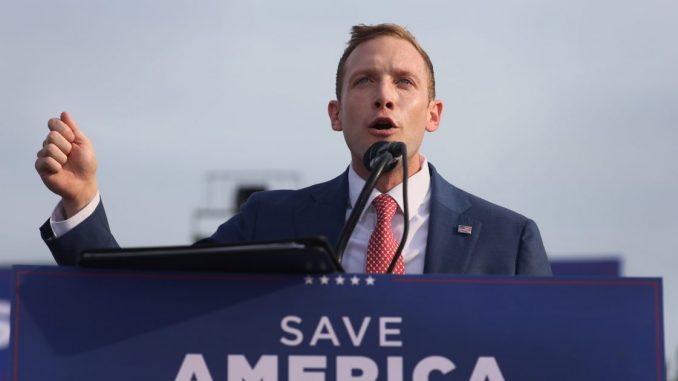 OAN Newsroom
UPDATED 12:17 PM PT – Sunday, June 27, 2021
President Trump made a stop in Ohio to pump up an America First candidate for Congress. At the recent Save America rally in Ohio, Max Miller laid out why he thinks his current representative is ineffective in pushing back against the Democrats.
Ohio has been considered the most prominent bellwether state in the nation. Voting with the winner of the presidential election since 1960, the state went for President Trump in 2020 by over eight points.
This shift towards the Trump GOP in the Rust Belt state is playing out on the national stage. However, that doesn't mean a fight isn't occurring in the state. In 2021, Rep. Anthony Gonzalez (R-Ohio) voted to impeach President Trump. Due to that vote, he now faces a primary challenger whom President Trump has endorsed. Max Miller, a former Trump adviser, announced his campaign to replace Gonzalez.
Miller went on to say, "honestly, Joe Biden's disastrous first few months would be a little less bad if it weren't for the fact we have Republicans like Anthony Gonzales who continue to betray us in Washington D.C."
Tonight, President Donald J. Trump called on patriots to vote RINO Anthony Gonzalez out of office.

I am the only candidate who can DEFEAT him. 

Chip in $20.22 to help me WIN in 2022 ???https://t.co/ZW5Ufj9m6u

— Max Miller (@MaxMillerOH) June 27, 2021
Honing in on Gonzalez, Miller implied he was seeking the approval of Speaker Nancy Pelosi and the media.
"The media wants to focus on how he supported Nancy Pelosi and her sham impeachment," he expressed. "That is a betrayal he can never turn back from and he should have to answer to day after day after day."
Miller spent much of his speech railing his incumbent opponent, saying an amnesty and forever war supporter should not be representing the GOP. He went on to say that he doesn't care what the establishment says, but what the voters in his district have to say.
"I don't care what Nancy Pelosi says. I don't care what the D.C. swamp says or what the media says," he announced. "I don't care what all turncoat Tonys, wokes, pacs say. I care about what all of you here say tonight."
The Ohio GOP censured my opponent Anthony Gonzalez for his vote to impeach Donald J. Trump.

This was the ultimate BETRAYAL of the people of Northeast Ohio.

My campaign for U.S. Congress offers the best chance to make sure RINO Anthony Gonzalez is FIRED!

— Max Miller (@MaxMillerOH) May 25, 2021
Miller also stated his belief in the America First agenda and made his intentions to bring that agenda to Ohio clear.
"In Congress, I will protect and prioritize American jobs. I will fight for the same kind of trade deals that President Trump fought for. The same ones the Biden administration is trying to undo," he declared. "I will defend the Second Amendment, combat Big Tech censorship, safeguard our elections and push term limits for members of Congress."
Miller is hoping to lead the charge against RINOs and Democrats as well as firmly set the Buckeye state as Trump country. If he is able to springboard to office from the Trump endorsement, Miller could become the standard bearer for taking on wavering incumbents in increasingly red states.