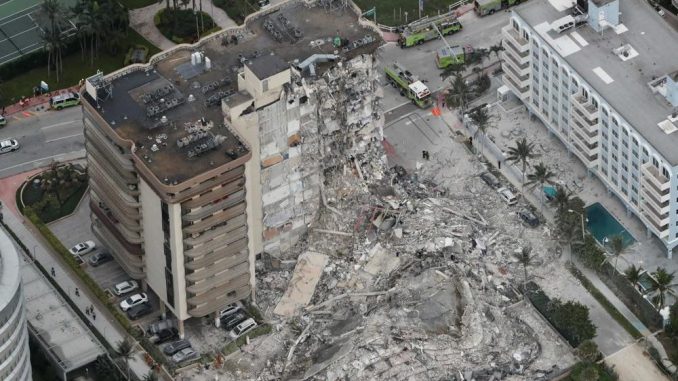 OAN Newsroom
UPDATED 6:55 AM PT – Friday, June 25, 2021
"As the sun sets on the most tragic day this community can remember, we stand in solidarity, once again, to tell you we are working around the clock to search and rescue people in this rubble."
–Mayor Daniella Levine Cava, (D) Miami-Dade County
Crews have been working nonstop to rescue those still stuck in the rubble following the partial collapse of a 12-story highrise in Florida. Officials confirmed 102 people were safe as of Thursday night after the collapse of the Champlain Towers South in Surfside.
"We did identify and declare as safe 102 people and 99 we still cannot account for, some of whom may not have been in the building," stated Chief Alan Cominsky of the Miami-Dade County Fire Department.
Workers are using specialty trained dogs, sonar equipment and are listening for banging sounds as they search for the missing. All crews are working around the clock to determine what caused the collapse, but are taking extra precaution due to current safety hazards around the rubble.
Meanwhile, a family reunification center has been set up for anyone looking for unaccounted for or missing relatives.
We're praying for every single family affected by this tragedy, and for all the first responders putting their lives on the line as the search continues into the night. #SurfsideStrong pic.twitter.com/RG4IRApTGi

— Daniella Levine Cava (@MayorDaniella) June 25, 2021
Florida Sen. Marco Rubio (R-Fla.) also weighed in on the tragic incident by highlighting the first responders who risked their lives to save people in the unstable building.
"So it's a dark and tragic day, but from it we continue to pray for some miracles," stated the Republican lawmaker. "And we're inspired by the men and women, the heroes who are out there right now, risking their lives really to rescue, hopefully rescue people."
Thank you to the first responders who have been working tirelessly to save lives in Surfside. Your selfless actions are bringing comfort in a time of pain for the South Florida community. pic.twitter.com/78UUKEh3lq

— Ron DeSantis (@GovRonDeSantis) June 25, 2021
To aid in the search and rescue effort, Florida Gov. Ron DeSantis has signed an emergency order to activate federal funding for Surfside.