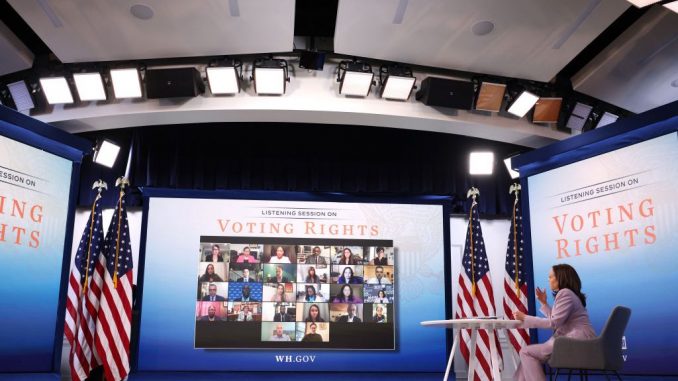 OAN Newsroom
UPDATED 1:58 PM PT – Thursday, June 24, 2021
On Tuesday, Kamala Harris virtually met with leaders of various social groups on Zoom, including The National Association for the Advancement of Colored People, to build a new strategy in efforts to weaken U.S. voting laws. Harris particularly cozied up with controversial Black Lives Matter activist Stacey Abrams after GOP senators blocked her sweeping voting reform bill.
Senate Minority Leader Mitch McConnell (R-Ky.) commented on the legislation, saying that it would ultimately serve as a Democrat "power grab." Additionally, Sen. Marsha Blackburn (R-Tenn.) said the bill would serve as an "incumbent dream."
Abrams, one of the virtual attendees, has faced controversy for falsely claiming stricter voter laws in Georgia are "nothing less than Jim Crow 2.0." At the meeting, Harris made it clear that despite Republican rejection of the Democrat-backed For the People Act, they are not backing down.
We must not despair. We must not be overwhelmed or throw up our hands. It is time to roll up our sleeves and fight for who we are.

— Kamala Harris (@KamalaHarris) January 20, 2017
In the meantime, Harris and the far-left groups plan to build grassroots coalitions to ease access to the ballot box.