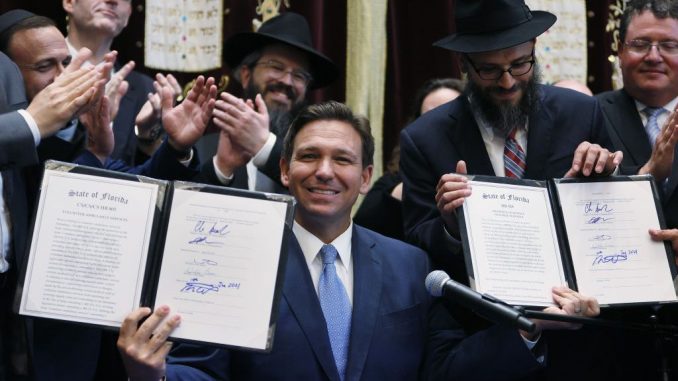 OAN Newsroom
UPDATED 1:21 PM PT – Thursday, June 24, 2021
On Tuesday, Fla. Gov. Ron DeSantis (R) signed a trio of bills that aim to balance out the intense push of Marxist ideology on students in public schools. This comes as a growing number of insiders have said far-left ideologies are taking center stage in the classroom and students who question it or express differences in opinion, are being shunned.
One of the bills, HB 233, seeks to ensure that behind closed doors students are being taught how to think instead of what to think. Furthermore, state colleges and universities will be required to conduct annual assessments on viewpoint diversity and intellectual freedom.
Another bill, HB 5, will require public high schools to have an open discussion with students about the evils of communist and totalitarian ideologies. The discussions will also focus on how these ideologies conflict with the principles of freedom and democracy central to the nation's founding.
DeSantis said the education system's seemingly exclusive focus on false anti-American narratives such as The New York Time's 1619 Project, is not only a waste of taxpayer money, but a slap in the face to residents who risked their lives to flee communist dictatorships.
Today, I signed HB 5 alongside Ana Abaunza, who escaped socialist regimes. Her story spotlights the necessity of teaching our youth why we have and will continue to fight for freedom.

Read more: https://t.co/I5h8k1zft6 pic.twitter.com/6avyv1KliZ

— Ron DeSantis (@GovRonDeSantis) June 22, 2021
"We want students to understand the difference. Why would somebody flee across shark infested waters, say leaving from Cuba, to come to southern Florida? Why would somebody leave a place like Vietnam," DeSantis expanded on the matter. "Why would people leave these countries and risk their life to be able to come here? It's important that students understand that."
The final bill, HB 1108, will require state colleges and university students to undergo a civic literacy course and assessment in order to graduate, in which students will be taught about basic principles in the constitution and how to vote.
This comes after Gov. DeSantis signed legislation earlier in June, banning the controversial critical race theory in schools. DeSantis said while students will ultimately take different pathways in life, they will all be citizens and play a part in preserving the nation's freedoms.