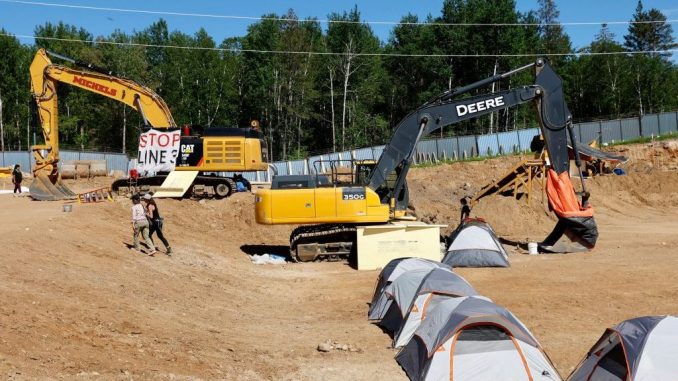 OAN Newsroom
UPDATED 8:22 PM PT – Thursday, June 24, 2021
The Biden administration has backed a Trump-era approval of the Line 3 Pipeline. The U.S. Army Corps of Engineers under the Biden administration has defended the oil sands pipeline project that would carry Canadian oil through Minnesota and Wisconsin.
On Wednesday, the administration advocated the challenge from tribes in the area and environmentalists be thrown away in a court brief. According to the Minnesota Public Utilities Commission, the Line 3 Pipeline replacement project is an "integrity and maintenance driven project."
The goal is to construct 337 miles of pipeline to replace the more than 280 miles that are growing old and decreasing the pipeline's capabilities. Canadian natural gas transmission company, Enbridge Energy, is heading the project.
The Justice Department argued the company did its due diligence to take environmental impact into consideration. Additionally, pipeline workers argued the benefits outweigh the risks.
Minnesota Public Utilities Commission approves/accepts Line 3 Replacement Project revised FEIS & reaffirms certificate of need & routing permits. https://t.co/VzNoLdQ2tQ

— Enbridge (@Enbridge) February 4, 2020
The pipeline is mapped out to pass through three Native American reservations. Those opposed are worried about the potential of a spill and how that would negatively impact the Indigenous people along with their cultural reliance on crops and wildlife.
However, Enbridge Vice President Mike Fernandez argued it's the best option. "Pipelines are the most efficient and safest way, and most environmentally sound way to transport this needed fuel," stated Fernandez.
He added it will create four thousand construction jobs, increase tax revenue to northern Minnesota and safely transport more fuel.