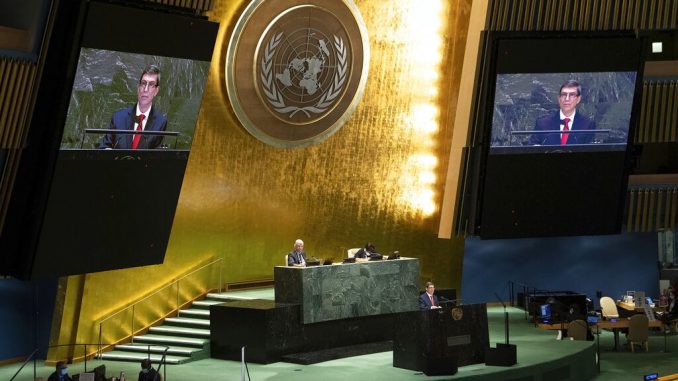 OAN Newsroom
UPDATED 3:50 PM PT – Wednesday, June 23, 2021
The U.S. voted against a United Nations resolution that would end the U.S. economic embargo on Cuba. While the U.S. voted against it on Wednesday, the U.N. general assembly went on to adopt the resolution.
184 votes were cast in favor, as Foreign Minister Bruno Rodriguez argued sanctions have made it more difficult for Cuba throughout their struggles with the COVID-19 pandemic. He announced the disadvantages the country has faced in obtaining medical equipment for vaccine development and necessary resources to produce adequate amounts of food.
?TODAY | Voting at #UNGA?? of resolution "Necessity of ending the economic, commercial and financial embargo imposed by the United States of America against #Cuba".

For the twenty-ninth ocassion, the international community will demand to the U.S. govt.: #StopTheEmbargo pic.twitter.com/Boknqdps2z

— Cancillería de Cuba (@CubaMINREX) June 23, 2021
However, U.S. Diplomat Rodney Hunter suggested otherwise. He backed the vote against the resolution by explaining the U.S. has been a significant supplier and one of Cuba's principal trading partners.
He went on to say, "sanctions are one set of tools in our broader effort toward Cuba to advance democracy, promote respect for human rights, and help the Cuban people exercise the fundamental freedoms enshrined in the universal declaration of human rights."
While Cuba has complained about the cost of the U.S. trade embargo,  government critics say the real problem is the inefficiency in how the state is running its economy.