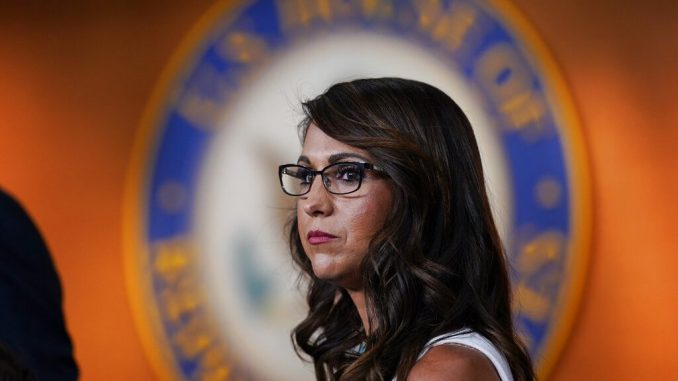 OAN Newsroom
UPDATED 9:49 AM PT – Thursday, June 24, 2021
Rep. Lauren Boebert (R-Colo.) is leading a coalition of House Republicans to censure Joe Biden for his dereliction of duty in regard to the border crisis. During a press conference Wednesday, the Colorado lawmaker criticized Biden for allowing criminals and drugs to flow through the southern border.
"Sex offender apprehensions have doubled and drug smuggling arrests have tripled," she stated. "Enough fentanyl to kill every American four times over has been intercepted by Border Patrol in just the first four months of the Biden regime."
Joe Biden has not enforced border security laws and has ignored the crisis at our southern border.

That's why today, I led my colleagues in a resolution to censure Joe Biden.

He's failed the American people. He must be held accountable.

— Rep. Lauren Boebert (@RepBoebert) June 23, 2021
Republicans have said Biden caused the immigration crisis by abolishing Trump-era border policies, halting border wall construction and incentivizing illegal immigration.
"Girls are being assaulted, children are being abandoned at the border,  families are self-separating because of Joe Biden's policies," Boebert continued. "Children 6 years of age and under may cross with an adult, but 7 years and older are sent back. So parents are choosing to self-separate from their children, putting their children in the hands of the cartel."
In the announced resolution, lawmakers said Biden should be held accountable for his inaction as well as for not upholding his constitutional duty to enforce U.S. border and immigration laws.
The Biden administration has been criticized by both Republicans and Democrats for its mishandling of the southern border as nearly 200,000 illegal immigrants are reported to have crossed the U.S.-Mexico border in March.