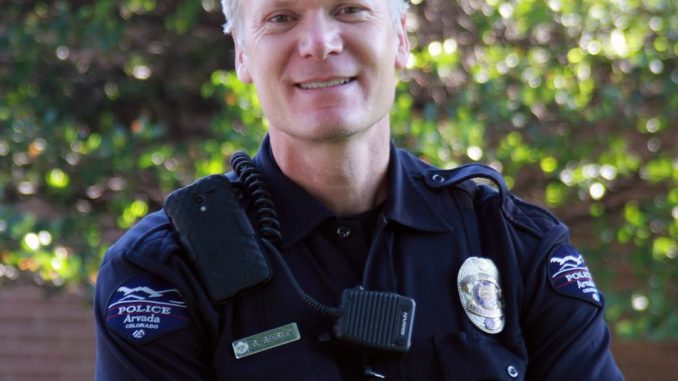 OAN Newsroom
UPDATED 10:50 AM PT – Wednesday, June 23, 2021
A community in Colorado have mourned the loss of a fallen police officer and a good Samaritan following a deadly shooting. During a press briefing on Tuesday, the Arvada Police Department announced veteran Officer Gordon Beesley was fatally shot on Monday while on patrol at a shopping district in suburban Denver.
A shootout occurred between officers and a suspect, which resulted in the death of Beesley, an innocent bystander and the suspect. Officer Beesley was a 19-year member of the department and a school resource officer. According to investigators, the shooting was a deliberate act of violence as Officer Beesley was allegedly ambushed by a suspect who expressed hatred towards law enforcement.
Our hearts are heavy this morning as we mourn the loss of Officer Gordon Beesley with the Arvada Police Department. May we never forget his sacrifice ? pic.twitter.com/hMikITwkzj

— Grand Junction PD (@GrandJunctionPD) June 22, 2021
"I can tell you that Gordon was targeted because he was wearing an Arvada police uniform and a badge," Arvada Police Chief Link Strate explained. "Officer Beesley was ambushed by a person who expressed hatred of police officers."
In addition, authorities identified the good Samaritan who was also killed in the shootout. John Hurley, a 40-year-old Colorado resident, was declared a hero for preventing more lives from being lost in the shootout. Strate explained there was no connection between Hurley and the suspect.
While law enforcement has yet to reveal further details surrounding the shooting, authorities believe the incident was isolated. Meanwhile, authorities continue to actively investigate the circumstances surrounding the tragedy.