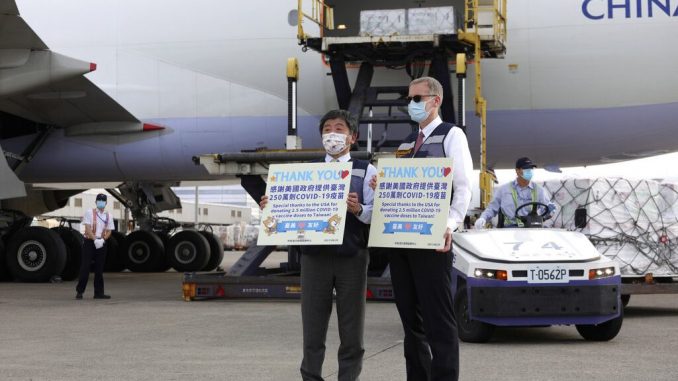 OAN Newsroom
UPDATED 4:25 PM PT – Monday, June 21, 2021
The U.S. has announced its plans to distribute 55 million COVID-19 vaccines to other countries. On Monday, the White House revealed the doses will be sent to various Latin American, Caribbean, Asian and African countries by next month.
This comes after Joe Biden announced earlier this month the country would be donating 75 percent of unused doses to the Global Vaccine Sharing Program. The goal is to achieve global health security, especially amid the spread of the more infectious Delta variant of coronavirus.
NEWS: U.S. allocates the remaining 55 Million (out of 80 Million) COVID-19 vaccines to be shared globally. ? ?https://t.co/dX3Ucjm09y

— USAID (@USAID) June 21, 2021
On Sunday, 2.5 million Moderna vaccine doses were sent to Taiwan from the U.S.
"Right at this moment, the 2.5 million doses of vaccines donated by the American government have already reached Taiwan," stated Taiwanese President Tsai Ing-Wen. "In the recent past, the word vaccine has been a popular keyword in Taiwan. It was also the primary task of the government."
Since May, Taiwan has experienced a surge in COVID-19 cases after being relatively unaffected by the virus throughout most of the pandemic. Chinese officials have agreed to provide vaccines to Taiwan, but Taiwanese law bans the import of medicine made in China.