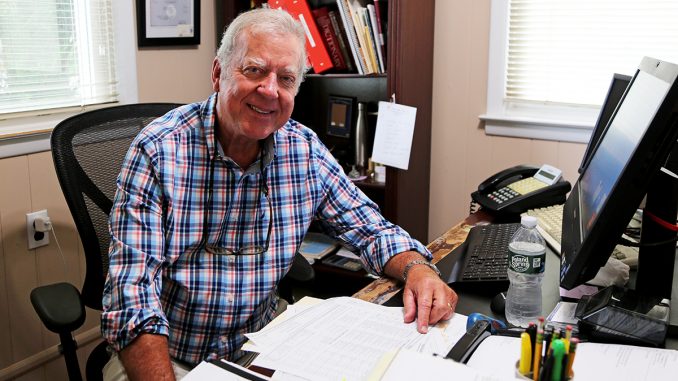 When Andrew Stype first started working for his family business in 1971, he hated it.  
His father, Valentine Stype Sr., had founded Andrew Stype Realty — which covered both insurance and real estate at the time — only seven years earlier and he needed help.  Mr. Stype's older brother, Valentine Stype Jr., was in the Air Force and his younger brother, Joh, was in high school, so it fell to him. He quit college, where he was studying accounting, and started working with insurance premiums out of his father's office in Ronkonkoma. 
"But the problem was, Dad bought this insurance agency-real estate office from a guy who was having some health issues," Mr. Stype explained. The office was a mess. 
At the time, his job was to make sure everyone was paying their premiums. He drove to Ronkonkoma and knocked on people's doors — "I always tried to call them first, but they wouldn't respond," he said. They'd slam the door in his face.  
"It happened three or four times," Mr. Stype, 72, recalled, which he thought was "a little weird." Later that week while cleaning the office with other staff, he found envelopes with payments behind a desk.  
"These people had actually paid the owner before," he said. "So, that's how I had my start with the insurance business, which was not a lot of fun, but things got better from that." 
Since then, Andrew Stype Realty has been built up into a real estate and appraisal agency, operating across the North Fork for nearly 60 years — surviving poor marketplaces, stock market collapses and even the pandemic, which proved a challenge unlike anything Mr. Stype has seen. This year, he will celebrate his fiftieth anniversary at the company, where his daughter also works.  
Looking back on his time at the company, Mr. Stype said "it's been a constant education." 
"We're always learning new things all the time," he said. "But I think the most important thing that my father taught me, it's a lot about sales and service … when we get a phone call, we always call people back right away." 
For a time, the business was operated by all three Stype brothers and their father. But then, Mr. Stype's older brother left to work as a teacher in Hampton Bays. Then his father died in 1987. The youngest Stype brother eventually bought out the insurance side of the company, while Mr. Stype bought the real estate side.  
Eventually, he went to night school for three years to become a general certified appraiser, which now occupies about 95% of his work in the office, he said. Mr. Stype's daughter, Erica McKenzie — who started in 2006 — focuses on real estate.  
"I always enjoy coming in," he said. "I'm normally the first one here and the last one to leave. And I don't mind working seven days a week, and I don't mind working evenings." 
He "recharges his batteries" by spending his winter months in Florida. He doesn't plan to retire any time soon, although he might start pulling back in a few years to hand things over to his daughter.  
"I know my time is going to be up when I walk in the office one morning and she's sitting at my desk," he said.