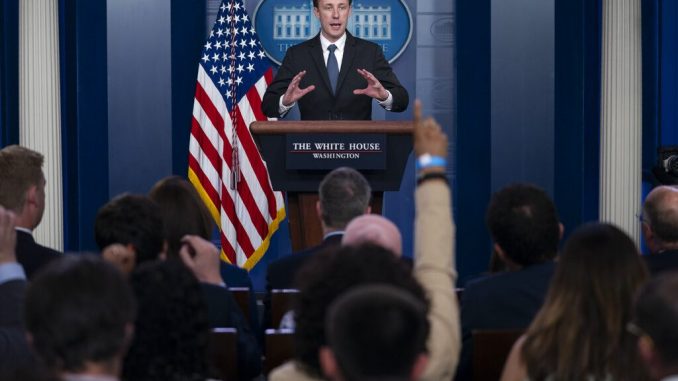 OAN Newsroom
UPDATED 9:22 PM PT – Monday, June 21, 2021
Joe Biden's National Security Adviser Jake Sullivan detailed how the administration will respond to threats from our rivals. Top diplomats in the Biden administration have touted a foreign policy strategy they believe will put American values and interests first.
On Sunday, Sullivan made the rounds on network news outlets to discuss how Joe Biden plans to move forward with relations abroad. He commented on the recent sit-down between Biden and Russian President Vladimir Putin by claiming Biden showed a hardline stance against Russian aggression.
"We are preparing another package of sanctions to apply in this case as well. We've shown all along the way that we're not going to pull our punches…when it comes to responding to Russia's harmful activities," he announced. "The President also took the extraordinary step of signing a new executive order that gives him even more expanded authority when it comes to sanctions."
Since Joe Biden became president, Russia has:

– Increased cyberattacks against the U.S.
– Conducted largest military exercise since Cold War
– Amassed 100,000 troops near Ukraine

With Donald J. Trump, Russia saw boundaries. With Joe Biden, Russia sees opportunities.

— Lance Gooden (@Lancegooden) June 17, 2021
This comes after people on both sides of the aisle criticized Biden ahead of the meeting and argued he was weak on several issues. They asserted the administration did not adequately respond to issues including an increase of cyberattacks from suspected Russian actors and the poisoning of Russian opposition leader Alexi Navalny. However, Sullivan asserted the Biden administration has been gearing up to take on Russian aggression and won't pull any punches.
Sullivan also gave a glimpse into discussions to restart the controversial Iran nuclear deal. He went on to state U.S. and Iranian diplomats have been hashing out terms and conditions for a new agreement, but there is still great distance between each other on certain issues.
Although, critics have pushed backed against a possible compromise with the rouge states. Israel's new Prime Minister Naftali Bennett began his first cabinet meeting with a warning on Sunday. He claimed the Ayatollah recently hand picked a hardline president to run the country and urged the Western world to "wake up" to the coming efforts to bolster the country's nuclear capabilities and increased attacks on other countries in the region.
The Biden Administration removed sanctions on those connected to funding terrorism.

I want answers as to whether this is another concession by the U.S. to appease Iran & rejoin the flawed Iran Nuclear Deal.

READ my letter: pic.twitter.com/7KaKg4vcDS

— Bryan Steil (@RepBryanSteil) June 15, 2021
Sen. Lindsey Graham (R-S.C.) sang a similar tune by pointing to the radical nature of the Iranian regime and its propensity to sponsor state sponsored terrorism. Sullivan refuted these claims and argued reviving the Obama-era will bring Iran and the international community to the bargaining table. The Biden administration will then take more aggressive steps to limiting Iran's nuclear ambitions and capabilities.
"What I will say is that the United States retains the right, even under the JCPOA, even under the Iran nuclear deal to impose sanctions for reasons other than the nuclear file.," he explained. "…We will see how negotiations proceed in Vienna."
In addition, the National Security Adviser touched upon the state of two ongoing probes into the origins of the coronavirus. He claimed the administration won't have to threaten China to coerce cooperation, but will employ international partners to help apply pressure. Sullivan believes under U.S. leadership, the international community can get China to open up their facilities for a throughout assessment of where the virus came from.
China will never open up their lab to international scientific examination until the world punishes China through concrete steps that make it so hard for China to avoid cooperating.

— Lindsey Graham (@LindseyGrahamSC) June 16, 2021
He went on to say, "We're not going to simply accept China saying no, but we will work between now and when this second phase of the WHO investigation is fully underway to have a strong consensus in the international community as possible."
One central theme in Sullivan's remarks is that getting optimal foreign policy outcomes takes time and negotiations with rivals have to slow cook. However, lawmakers on both sides of the aisle are asking for a more urgent response to our adversaries' power gains to check the current global order and reassert America's place as leader of the free world.