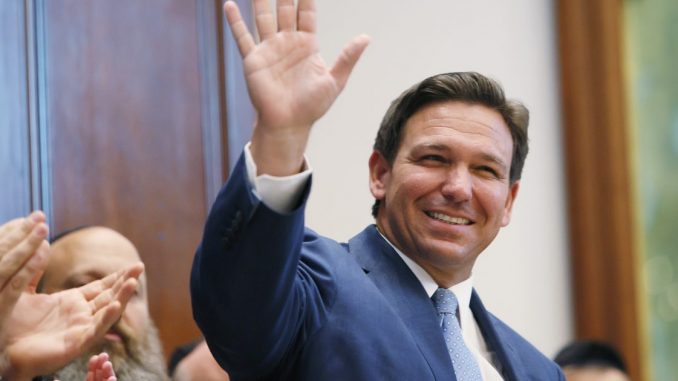 OAN Newsroom
UPDATED 11:17 AM PT – Sunday, June 20, 2021
Gov. Ron DeSantis (R-Fla.) has turned heads for his strong stance on several key GOP issues. While several lawmakers and state leaders have kowtowed to the wishes of the progressive left, DeSantis has pushed back against everything from coronavirus lockdowns to protecting women's opportunities in sports.
"We'll fight with hope and optimism," he announced. "We will emerge stronger as a result of it."
DeSantis has recently signed multiple bills to push the Sunshine State to lead the way. When it came to the coronavirus pandemic, DeSantis made sure lockdowns were only put in place when absolutely necessary and put the state's most vulnerable first, despite advice from the Centers of Disease Control and Prevention.
"While in all these locked down states closed schools, shuttered business and destroyed lives were the norm. In Florida we've had schools open the entire school year," he stated. "Our businesses are thriving and we have saved millions of livelihoods from the brunt of lockdowns."
The reasons are clear ― Florida is successful because we are OPEN and let Floridians make decisions that are best for them. Florida's budget has $10 billion in reserve because Florida chose Freedom over Faucism. pic.twitter.com/tEzMRH6U6k

— Ron DeSantis (@GovRonDeSantis) June 9, 2021
DeSantis also led Florida to become the first state to hold Big Tech accountable by requiring social media platforms to publish detailed standards and apply them fairly. He emphasized "social media companies will no longer be able to hide behind vague language as to why they censored a Floridian's post."
In addition, DeSantis signed a bill ensuring female athletes have access to equal opportunities in high school and college.
"I can tell you this: in Florida, girls are going to play girls' sports and boys are going to play boys' sports," he announced. "That's what we're doing and we're going to make sure that's the reality."
As leftists have called for the defunding of police, the Florida Republican has remained strong in his support for law enforcement by garnering respect and building a strong relationship with those authorities. In Florida's response to the Black Lives Matter and Antifa riots last summer, DeSantis highlighted his state's work to back the blue and allocate necessary funding to law enforcement.
For 200 years, sheriffs have been keeping our communities safe. Today, the Florida Cabinet passed a resolution thanking them for two centuries of selfless service. @AGAshleyMoody pic.twitter.com/pc4qsuTUri

— Ron DeSantis (@GovRonDeSantis) June 15, 2021
The governor also pointed to the state's decision to ban critical race theory in Florida's schools.
"In Florida we have banned the use of critical race theory and other leftist ideologies," he declared. "Teaching people to hate their country or to hate each other is not worth one dime of tax payer dollars in our school system."
Although DeSantis has already stated his intent to run for reelection as Florida's governor, he is being touted as a strong potential vice presidential pick should President Trump run again in 2024."