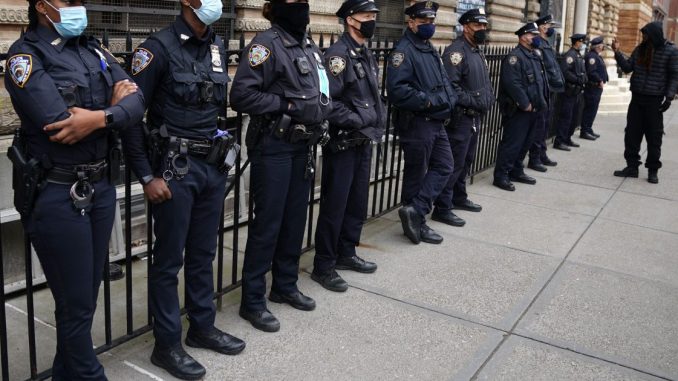 OAN Newsroom
UPDATED 9:15 AM PT – Sunday, June 20, 2021
Major cities have decided to refund the police after axing department budgets in response to national unrest. Instead of defunding the police, several cities have begun to sing a new tune.
Cities like New York City, Oakland and Los Angeles are refunding the police due to an increase in crime. New York City Mayor Bill de Blasio (D) recently reversed a decision to eliminate funding for a precinct in Southeast Queens after receiving backlash from the community.
Reopen businesses and schools.

Refund the police.

Restore public safety.

That is why I am running for New York City Mayor

— Curtis Sliwa for NYC Mayor (@CurtisSliwa) April 30, 2021
Back in 2020, de Blasio said he would cut $1 billion from the New York Police Department operating budget and $500 million from its capital budget. He announced stimulus funding from the federal government will allow the city to move forward with the project along with a previously promised community center.
"We are fully funding the new 116th precinct building and new community center," he explained. "These are things the community has said will improve the quality of life that will allow the community to get what they need."
In Oakland, California, the Oakland City Council voted to allocate $10 million to restore vital community services for fire and police. This decision came after the city of Oakland's Police Chief LeRonne Armstrong called for more resources to be allocated to the department due to a major increase in crime.
"At the end of the year, this department was impacted by a loss of millions of dollars to our budget as a result of budget cuts. Those millions of dollars were resources, they were officers," he expressed. "…We lost all of these resources and we're seeing the tremendous impact that loss is having on our community."
After the vote, Armstrong said he was appreciative of the council's vote to help address the increase in crime.
It is clear that as police funding decreases, crime increases. Several of America's cities have fallen to the radical left–refund the police to reinstate law and order! pic.twitter.com/I4vWDd3awW

— NCGOP (@NCGOP) June 16, 2021
Additionally, the Los Angeles City Council signed off on a plan by Mayor Eric Garcetti (D) in May to increase funding for the Los Angeles Police Department by three percent, despite activists urging for the police to be defunded. The boost in funding will allow the department to begin rebuilding its workforce as it has lost hundreds of officers this past year.
In a recent report, LAPD Police Chief Michel Moore said they'd need more funding and officers to build task forces responding to mass protests and building relationships with protest organizers.
Calls to defund the police ramped up in 2020 due to public outrage over the death of George Floyd. As cities now see an increase in crime, many look to address the issue to keep communities safe.