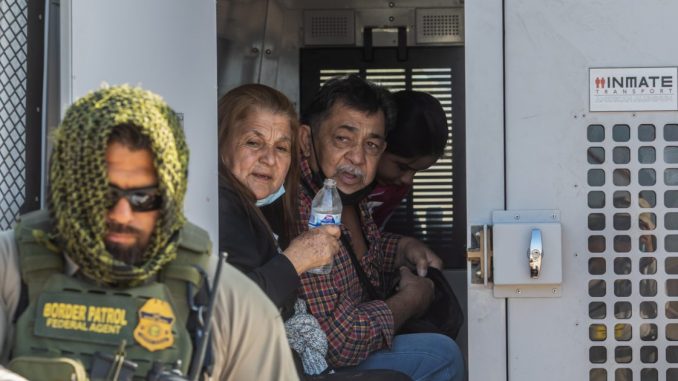 OAN Newsroom
UPDATED 10:55 AM PT – Saturday, June 19, 2021
Arizona Customs and Border Protection agents have warned migrants of extreme heat danger. The Border Patrol's Tucson division recently said migrants are at risk of dying from the excessive heat near the border, with temperatures reaching over 110 degrees.
"The danger is real, the terrain is brutal," explained one CBP agent. "It is not possible to carry the necessary amount of water to make it to your destination, as the distances you must travel are devastating."
According to KOLD, CBP reported an average of 30 to 40 emergency 911 calls each day. In addition, the Pima County medical examiner stated there have already been 11 heat-related deaths in June so far.
The heat hasn't stopped human smuggling (HS) activity on the Arizona SW border; @HSIPhoenix continues to investigate, arrest and dismantle attempts of HS. Those looking to exploit people for private financial gain are warned. You will be caught. Recent case 4:21-mj-07282-N/A-LAB pic.twitter.com/RFJOrQ1ocO

— HSI Arizona (@HSIPhoenix) June 15, 2021
"The temperature at the moment is 108 degrees Fahrenheit," the CBP agent stated. "Walking through the desert is like jumping into boiling water with an expectation of being spared of any injury. The message is clear. Don't do it.
CBP added there are emergency beacons along the southern border for those who do not listen to their warnings. Caution of the deadly heat wave comes after border patrol agents in Texas discovered a slew of U-Haul trucks filled with migrants. Agents earlier this week discovered 33 migrants packed into the back of a U-Haul, which uncovered a human smuggling operation where migrants were "close to perishing due to excessive heat."
#Borderpatrol Agents intercepted a smuggling attempt near Amado, Arizona. Agents conducted a vehicle stop and discovered eight illegal aliens under a tarp in the bed of a U-Haul pick-up truck. #Vigilance @USBPChief @CBP pic.twitter.com/4cyFrjAT5F

— John R. Modlin (@USBPChiefTCA) October 16, 2020
In a separate incident, another truck was pulled over carrying 27 illegal immigrants, where temperatures inside reached a scorching 106 degrees. None of the migrants were wearing protective equipment and many required medical attention after suffering heat related sickness.
This comes after reports indicated more than 180,00 migrants crossed the border illegally in May. GOP lawmakers have continued to take aim at the Biden administration for their handling of the crisis as well as Joe Biden and Kamala Harris's reluctance to visit the border.
Meanwhile, President Trump is expected to visit the border later this month.