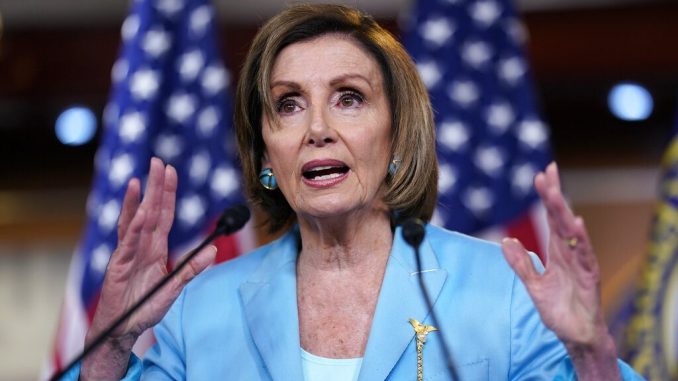 OAN Newsroom
UPDATED 6:42 AM PT – Friday, June 18, 2021
A reporter asked Speaker Nancy Pelosi (D-Calif.) about her take on an upcoming Supreme Court case regarding a Mississippi law banning abortions after 15 weeks of pregnancy.
During a press conference Thursday, the reporter inquired about Dobbs v. Jackson Women's Health Organization, which the Supreme Court will review this fall after a lower court blocked the law earlier this year. Pelosi was asked: is an unborn baby at 15 weeks a human being? Here's her response:
"Let me just say that I'm a big supporter of Roe v. Wade. I am a mother of five children in six years. I think I have some standing on this issue as to respecting a woman's right to choose."
Sen, Ted Cruz (R-Texas) called Pelosi's answer "barbaric" in a tweet Thursday morning.
Barbaric. Speaker Pelosi refuses to say an unborn baby at 15 weeks is a human being.

Science doesn't matter to today's radical Dems—it's all politics. https://t.co/F4vtyn6RIB

— Ted Cruz (@tedcruz) June 17, 2021
This is not the first time the Speaker has answered this way when asked about abortion. In 2015, she was asked if a 20-week-old unborn child is a human and she responded similarly. There was no "yes" or "no," just another personal anecdote. She made the following statement:
"In fact, one day many years ago, perhaps before you were born when I was a new member of Congress, as a Catholic and a mom of five, opposing some of the initiatives similar to what–in the same vein as–what we have today, one of the Republicans stood up and said: Nancy Pelosi thinks she knows more about having babies than the pope. Yeah, Yeah. That would be true."
A San Francisco archbishop slammed Pelosi after her response, stating "no good Catholic can dissent in good conscience" from church teaching on the sanctity of life.
Both Nancy Pelosi and Joe Biden are prominent Catholic politicians who are at odds with their church on the issue of abortion and have faced criticism from church leaders. More than 200 catholic bishops will gather virtually this week to discuss whether high-profile Catholic politicians who support abortion should be given Holy Communion.