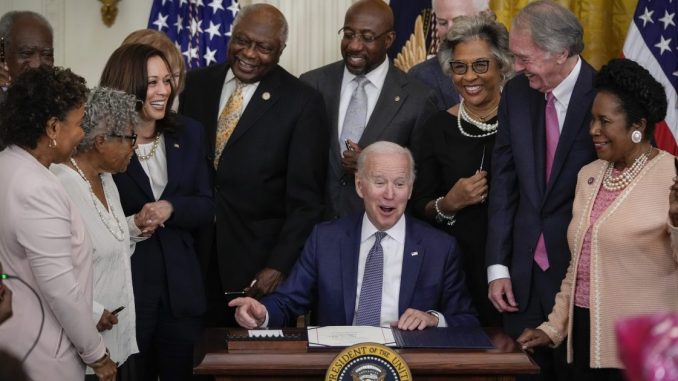 OAN Newsroom
UPDATED 9:30 AM PT – Saturday, June 19, 2021
Joe Biden has fallen under scrutiny for not creating a policy that will benefit black Americans, while the mainstream media was quick to forget President Trump's proposals. As Joe Biden took credit for making Juneteenth a federal holiday, the mainstream media forgot Trump's proposal less than a year ago as part of his Platinum Plan.
"By making Juneteenth a federal holiday, all Americans can feel the power of this day and learn from our history," Biden expressed. "Celebrate progress and grapple with the distance we've come, but the distance we have to travel."
President Trump supported making Juneteenth a holiday.

This is just another idea Joe Biden stole from President Trump.

— Brigitte Gabriel (@ACTBrigitte) June 18, 2021
Contrary to the Biden administration, who claimed America requires state intervention to fix systemic racism in order to achieve equality, President Trump aimed to empower Black Americans by creating opportunities in their communities.
"We will create 3 million new jobs for the black community, open 500,000 new black owned businesses, increase access to capitol in black communities by 500 billion dollars," he announced. "This includes investing in community development and financial institutions and minority depository institutions."
While in office, President Trump sought to understand the needs of the black community by directly soliciting leaders' advice and feedback. This advice ultimately guided the 45th president to create his comprehensive plan, which focused on four main pillars: opportunity, security, prosperity and fairness for African Americans.
President Trump's plan didn't only talk about making Juneteenth a holiday, his plan included tangibles that would bring revitalization to urban communities, safety & a $500Billion plan to economically empower black people. pic.twitter.com/cQdAKkSpgk

— Melissa Tate (@TheRightMelissa) June 18, 2021
Several black American's commended Trump's Platinum Plan by noting it would have led to more education opportunities, economic empowerment, better and cheaper healthcare, and justice. Biden on the other hand has been criticized by both parties for using Juneteenth as a symbolic victory instead of proposing policies to enact material change.
"Joe Biden cares more about the citizens of foreign countries than he cares about Black American's living in our own country," President Trump asserted. "I will always put American's first and that includes very importantly Black American's."
Meanwhile, voters are watching Biden closer than ever to see if he will actually create policy that will benefit the black community.