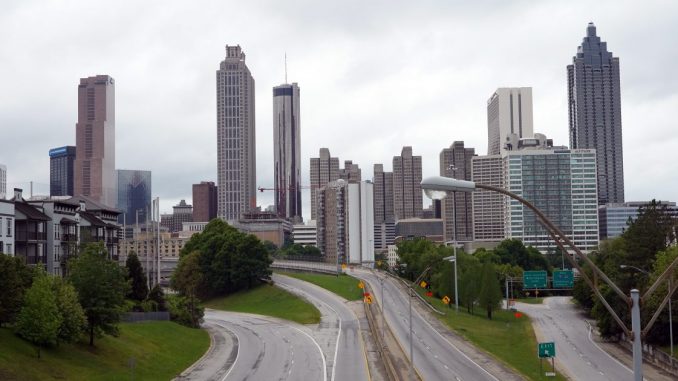 OAN Newsroom
UPDATED 11:45 AM PT – Saturday, June 19, 2021
Community leaders of a community in Atlanta, Georgia have pushed to remove itself from the Peach State's capital amid skyrocketing crime rates. On Friday, Bill White, CEO of the Buckhead City Committee, stated the community submitted two bills to the Georgia legislature in effort to separate from Atlanta and become its own city.
The original bill was introduced by Rep. Todd Jones (R-Ga.) in April. Lawmakers hope residents will vote on the referendum ballot in January 2022. The decision came after police statistics reported an increase in murders by 63 percent since May 2020 in the Democrat-run city under Mayor Keisha Lance Bottoms, while police continued to lose funding.
Atlanta is failing

Atlanta needs new leadership, a new mayor NOW

Atlanta deserves transparency in procurement & taxpayers dollars spending

Atlanta must take the handcuffs OFF it's police & treat them with respect/allow them to do their job

Atlanta deserves better

Who agrees?

— Bill White ATL (@BillWhiteNY) March 21, 2021
One May weekend left 19 people shot and six people dead in Atlanta neighborhoods, which fueled the Buckhead City Committee to push even harder for a separation. White stated Buckhead City would also have its own judge, court and jail to crack down on crime.
He went on to argue, "we are at war here in Atlanta and it's obvious to the average citizen that this is a huge crisis that we have to get control of right away."
Gun violence isn't a political issue. It is not a 2nd Amendment issue and it not a race issue. It is people making terrible decisions with guns, poor anger management, and it is a profound carelessness and lack of regard for human life issue. https://t.co/DyASdUNV28 #APDCares pic.twitter.com/O4hCkW5ZCW

— Atlanta Police Department (@Atlanta_Police) June 18, 2021
Although, the committee for United Atlanta has maintained opposition against Buckhead becoming a city by stressing the divorce proceeding is a lengthy process. Head of United Atlanta, Attorney Linda Klein, said legal battles could ensue and potentially halt the process for years.
"The new city would need to have its own set of bureaucrats, elected officials, and others," she explained. "…It's very complicated."
However, Buckhead city committee cited similar formations of cities such as Brook Haven and Sandy Springs as proof it can be done. White outlined the points on the committee's website in terms of taxes, leadership and infrastructure.
In addition, White is confident around 80 percent of community members will vote in favor of the separation.