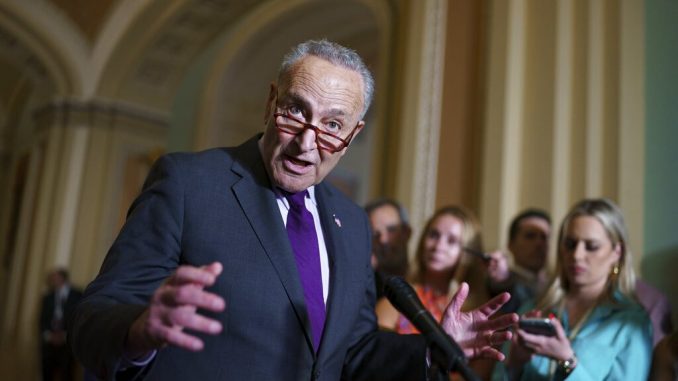 OAN Newsroom
UPDATED 7:00 PM PT – Wednesday, June 16, 2021
Senate Majority Leader Chuck Schumer (D-N.Y.) announced his formal support for repealing the 2002 Authorization of Military Force in Iraq. For the very first time, Schumer voiced his support for the repeal on the Senate floor on Wednesday.
Schumer asserted that revoking the authorization doesn't mean the U.S. will abandon its allies in Iraq. He insisted this was a way to prevent future administrations from taking advantage of the specific legal authority. The Democrat went on to highlight a similar repeal effort geared toward the Iraq war AUMF.
This week, the Biden admin became the first admin to support repealing the 2002 AUMF in Iraq

I support repealing the 2002 AUMF—the Iraq War's been over for nearly a decade@SFRCdems will markup a resolution to repeal the Iraq War AUMF next week

This Senate will vote on repeal

— Chuck Schumer (@SenSchumer) June 16, 2021
"Next week, Chairman Menendez and the Senate Foreign Relations Committee will mark up a resolution led by Senators Young and Kaine, which will repeal the Iraq War AUMF," he explained. "It is my intention as majority leader to bring this matter to a floor vote this year, and I will discuss the precise timing with Chairman Menendez."
The House of Representatives is expected to vote on whether to repeal 2002 Iraq war AUMF on Thursday.