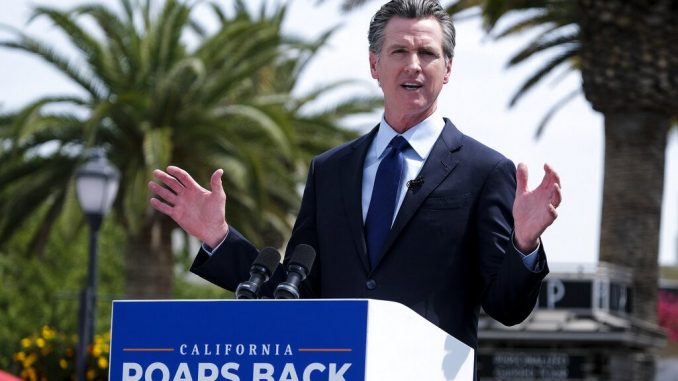 OAN Newsroom
UPDATED 4:00 PM PT – Wednesday, June 16, 2021
Gov. Gavin Newsom (D-Calif.) announced California will not have vaccine passports, but an electronic vaccine verification system instead. In a recent press conference, Newsom suggested the state was working on a system that businesses could use to check whether a customer is vaccinated.
The Golden State governor went on to mention businesses could choose between relying on the honor system for customers to wear masks or using the vaccine verification system. Businesses will also still have the option to turn customers away if they refuse to wear a mask.
Today‌ ‌we‌ ‌‌move‌ ‌beyond‌ ‌the‌ ‌blueprint.‌ ‌

No‌ ‌more‌ ‌color ‌tiers‌, no more capacity limits, ‌and,‌ ‌in‌ ‌most‌ ‌cases,‌ ‌no‌ ‌more‌ ‌masks.
 ‌
Today ‌is‌ ‌a‌ ‌day‌ ‌worth‌ ‌celebrating.‌ Thank you, California. #CAcomeback pic.twitter.com/As5adz1238

— Office of the Governor of California (@CAgovernor) June 15, 2021
"To be honest, in terms of their self-attestation, we're not requiring passports in the state of California," he explained. "We're not requiring or mandating, but we are encouraging people, private businesses, to do what they think is best for them."
California lifted most of its COVID-19 restrictions on Tuesday as part of the state's reopening. So far, more than 10 states have banned the use of COVID-19 passports.