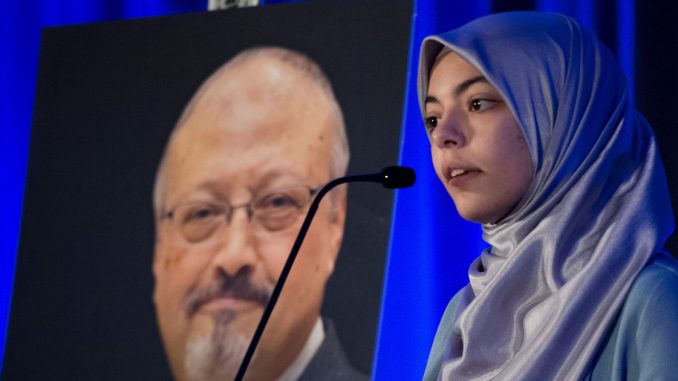 OAN Newsroom
UPDATED 1:53 pM PT – Wednesday, June 16, 2021
A high school in Virginia chose a controversial speaker to address their outgoing seniors. Fairfax County school board member Abrar Omeish delivered an impassioned commencement speech to the 2021 graduates of the Justice High School, which focused on the political climate of today.
However, a poll released three days after her speech showed local parents in disagreement with Omeish as the majority of voters opposed the politicization of their county schools.
The graduating class President introduced Omeish as Virginia co-chair for the Bernie Sanders campaign. The controversy grew when it was pointed out that Omeish's father was a leader in his mosque, which according to the Daily Wire was attended by two of the 9/11 hijackers as well as the attacker of the 2009 Fort Hood shooting.
Her father Esam Omeish attended our school. He was the president of the international club," the class president announced. "Later on, he became a leader and a board member of the Dar-Al-Hijrah Islamic Center."
Congrats JUSTICE Class of 2021! @justicehswolves

These seniors started the 1st @FCPSEquity team.?
Over half are first-gen college.
Over half learned English in @fcpsnews?

It was a privilege to be their speaker today, at my dad's alma mater.
These grads inspire me!?@jstyle620 pic.twitter.com/SEdUBvFrFI

— Abrar Omeish (@AbrarOmeish) June 7, 2021
Beginning her speech, Omeish spoke about race and oppression in America. She also claimed the land the school was built on was stolen from Native Americans.
"You understand that social justice is only political for those that can afford to ignore it and that educating our future means that we are all in this together," she asserted. "…We are all on the same side against hate towards anyone. You understand that neutral is another word for complicit and you have made a choice to take a stand."
Omeish also commended the students for their political activism by telling them to charge on, despite opposition they may face.
"Our world is overwhelmed with need. We struggle with human creed, racism, extreme versions of individualism and capitalism," she expressed. "…The list goes on. You all know this."
Omeish's speech was met with backlash as Virginia officials have been pushing back against the use of divisive rhetoric in academic settings. Virginia Republican Gubernatorial Candidate Glenn Youngkin has said fixing the schools is a major part of his campaign.
Virginia gubernatorial candidate Glenn Youngkin: We won't teach critical race theory in our schools, we will teach accelerated math.@GlennYoungkinhttps://t.co/h8jim4K6On

— Newt Gingrich (@newtgingrich) May 6, 2021
"Our kids are afraid to express a conservative view or religious view in schools or universities," he explained. "Not just for fear of a bad grade, but for retribution."
Youngkin joins other Republicans fighting to ban critical race theory and other forms of leftist indoctrination in American schools.