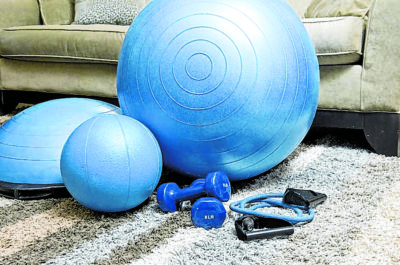 Traci Clinton shares advice for loving the home you are in or preparing it for its best sale
The COVID-19 pandemic has given many homeowners the opportunity and push that they needed to realize that they do not want to delay loving where they live. Whether that means embracing the home they are in and making it even better or selling that home and moving into the home that better fits their needs and dreams, there is a lot of activity in the real estate market these days.
Traci Clinton, a licensed realtor with Compass, told Anton Media Group recently that she is seeing a lot of movement, both by motivated sellers as well as those homeowners who might be on the fence, those who, if they just loved their home and its amenities more, would assuage their urge to sell.
"There are people in the market reevaluating their homes," Clinton said. "Some are perhaps seeing in the market something that checks off the boxes in what they are searching for, while others are deciding to stay and do the work of a renovation."
She said, some homeowners have seen [the pandemic] as an opportunity to start something new elsewhere. Where buyers are going is as varied as the reasons for moving.
"It could be in the same area they are in or perhaps for example sell on the North shore and buy something in the Hamptons that they could enjoy year round," said Clinton. "The move from the city that some couples thought would happen three to five years from now to the suburbs just happened sooner as they now want a yard and more space."
She said, other people are keeping their existing homes and having spent so much time in them over the last year decided to undertake a renovation which is a little more challenging than it was a year ago as building costs have increased.
"Some of the municipalities have increased processing times for getting permits," Clinton said. "And some appliances, for example, are on backorder with waiting times much longer than usual."
These things should weigh heavily when making a decision whether home renovation is the right decision in the current marketplace.
"Our homes, over the last year have become our offices, gyms, restaurants and theatres," Clinton said. "Our outdoor spaces became our sanctuaries, so just a thought as homeowners are now rethinking spaces and designing to meet their new needs in their homes."
Staying in the same home and modifying it to fit your lifestyle is not always easy or the best solution, especially with the real estate market heavily favoring the seller. It is not an easy decision whether to make a home fit your needs or move to a new home that would instantly do that for you.
"This ties into people moving to accommodate the new spaces they need or those keeping their existing homes while hiring an architect and designer to reconfigure the space or add on," Clinton said.
Q: How would you describe the market right now ?
A: The pace and urgency of the 2020 market has subsided a bit, but we are dealing with low levels of inventory in our market and surround areas.
Q: Is it a buyers or sellers market?
A: Currently, the sellers are coming ahead in the market mostly with lack of inventory.
Q: Why would you buy right now while the market is high?
A: When you are selling a property and buying within the same market you will benefit on the property sale of your home. Will you pay higher on the buy most likely yes but we don't have a crystal ball where the market will go.
Q: Top amenities that buyers are looking for?
A: It could be radiant heated floors in all baths and flooring to home gyms with beautiful glass doors in the lower levels of homes, beautiful kitchens with high end appliances and wine coolers.
Clinton said some of the items that buyers are looking for and sellers are considering whether they stay or go to a new home are a "Zoom" room, gourmet kitchens, "vacation-at-home" amenities, recreational rooms and home exercise rooms.
"As we continue to adapt to the changes that the pandemic has brought into our lives, we must embrace and redefine our homes as spaces of learning and living, productivity and play," Clinton said. "Form and functionality become increasingly more important in this new environment. While a return to normalcy might alleviate some of the urgency, other trends such as the demand for learning, working and exercising from home will remain. Our homes in this new era need to be luxurious yet comfortable, relaxing yet productive. Our workspaces need to be functional and efficient."
Should you stay or should you go? Either way, the advice of a local realtor can help point you to the real estate decision that is presently best for you.
Clinton is a founding member of Long Island Compass and a Luxury Division Council Member of Long Island. Her office is located at 1695 Northern Blvd. in Manhasset. Call 516-517-4751 for more information.
The post Love It Or Leave It appeared first on Long Island Weekly.