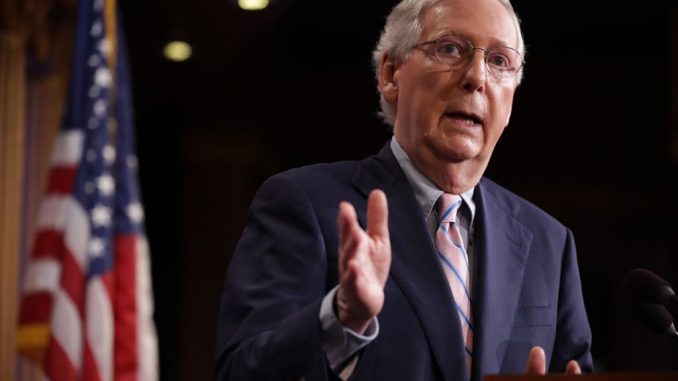 OAN Newsroom
UPDATED 2:23 PM PT – Friday, June 11, 2021
Sen. Mitch McConnell (R-Ky.) said Congresswoman Alexandria Ocasio-Cortez's (D-N.Y.) agenda is so far-left she is struggling to even sell it to her own party. McConnell criticized the New York representative during an interview on Thursday.
He was responding to a tweet by Ocasio-Cortez where she warned Democrats that time is precious, noting their majority in Congress needs to move now. Her reference was to the death of Sen. Ted Kennedy (D-Mass.), whose seat was temporarily filled by another Democrat, but eventually taken over by Scott Brown (R).
During the Obama admin, folks thought we'd have a 60 Dem majority for a while. It lasted 4 months.

Dems are burning precious time & impact negotiating w/GOP who won't even vote for a Jan 6 commission. McConnell's plan is to run out the clock.

It's a hustle. We need to move now.

— Alexandria Ocasio-Cortez (@AOC) June 9, 2021
McConnell also said it's been made clear Democrats don't have enough support to drop the filibuster in order to pass their radical left agenda. The Senate minority leader argues the Democrat agenda is not in the middle and won't find much appeal for it on either side of the aisle.