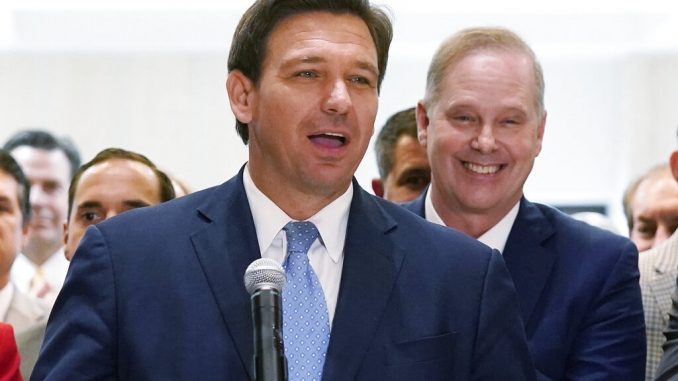 OAN Newsroom
UPDATED 9:02 AM PT – Wednesday, June 2, 2021
Florida Gov. Ron DeSantis (R) recently signed the Fairness in Women's Sports Act, prohibiting biological males from competing in girl's sports in the state.
The Republican made the bill official Tuesday, which aims to ensure that opportunities like college scholarships are protected for female athletes. The law requires sports at public schools, universities or clubs be designated as either male or female based on the biological sex of the athletes.
"It's not a message to anything other than saying we're going to protect fairness in women's sports," DeSantis stated. "We believe that it's important to have integrity in the competition and we think it's important that they're able to compete on a level playing field."
This comes in stark contrast to Democrat-led Connecticut, where biological males are allowed to compete with whatever gender they identify with. However, a growing number of high school and college students from the state are coming forward to push-back.
While also speaking at the press briefing, track and field athlete Selena Sol said the lack of protections for women's sports in Connecticut is robbing herself and teammates of opportunities.
"I missed advancing to the next level of competition in the 55 meter dash by just two spots, two spots that were taken by biological males," she explained. "It was frustrating, heartbreaking and demoralizing to sidelined in my own sport."
While large organizations like the NCAA have threatened to boycott states that refuse to force women to compete with biological males, DeSantis said protecting opportunities for student athletes has made it a risk he's willing to take.
In Florida, we're going to do what's right and we won't be cowed by pressure from woke corporations. They will not dictate the policies in Florida – not now, not ever. Florida will stand strong and protect women's sports and opportunities.

Watch more: https://t.co/tX9Iqit5uw pic.twitter.com/B4tohDyHZd

— Ron DeSantis (@GovRonDeSantis) June 1, 2021
The change, which takes effect July 1, will make Florida the largest state to put such restrictions into place.