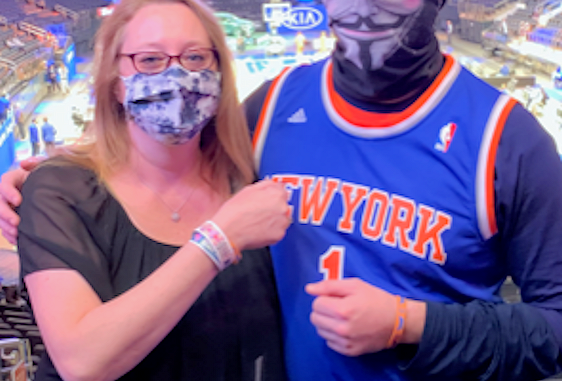 Kim Rognon, a ticket agent at the Long Island Rail Road's Syosset station, was recently recognized by the New York Knicks as part of the team's honoring frontline workers from all fields. The team reached out to the MTA and its press office for candidates, and Rognon was one of four MTA employees chosen to attend a Knick game.
Of her experience at Madison Square Garden Rognon said, "I was very comfortable. They gave me a rapid test. I liked the way they had the seating—everything was spaced out. And there was plenty of room. It was during the 10 percent of capacity [time frame]. There were three other MTA workers honored. They put us in a [section] and told us how it was going to [happen]. It was really extra special and nice. I'm a bit modest. I don't feel like I'm an essential worker. I think our EMS and our hospital staff are the essential workers."
She added, "I was very honored and I felt overwhelmed with the treatment. What the Knicks did was very nice. The announcer said how long we worked for the MTA, what our position was and a little description of what we do."
The recognition happened during the first timeout, Rognon said. She was able to invite her son Dustin, "which is marvelous, because he's a Knicks fan. It's the only reason mom watches basketball (laughs)."
Asked what she did when the LIRR shuttered its ticket offices more than a year ago, Rognon replied, "As a ticket agent, I was roaming through all different stations since everything was closed here in Syosset, my usual home. I helped relieve other managers at other areas and we did certain inspections that we had to do on the road with all the stations. And I think I was brought back here in June to Syosset to work with the commuters outside and sanitize the ticket machines and assist with the information and selling tickets on the outside."
Q: What did you feel when the lockdown began?
A: At the beginning there was a lot of anxiety. It was stressful. The unknown, Coming back [to Syosset] was a little bothersome because you were outside and I could not comprehend why I couldn't be in my building behind my window, where I would be safe. But at the same time, there were so few commuters so you wouldn't feel overwhelmed with an abundance of people. Everybody social distanced and I had the masks and I was sanitizing surfaces. I had wipes to sanitize the machines. I had masks to give out. At one point I had hand sanitizers to give to commuters.
Q: How did the commuters react to this new reality of mask wearing and other protocols. What was your experience in dealing with your customers?
A: I must say that for the most part everybody knew what their roles were. So I wasn't given a hard time by anybody. Even when we got back in [at the ticket booth] it was a matter of reinforcing that they should wear the mask or keep it [above the nose] when they were addressing me.
There has been a noticeable increase in riders from the depths of the lockdown, but nothing close to the pre-pandemic levels, she related.
MTA spokesperson Meredith Daniels told Anton Media Group, "Station agent jobs have been very important in the past and during COVID. Customer service, including safety and communication, is a top priority for us and our riders. Ticket agents and station ambassadors play a vital role towards ensuring we meet the needs of our customers. While COVID has forced us to adjust, we will always look to stay connected with our riders at ticket windows, in stations and on platforms."
Rognon, of Copiague, said she started out as a clerk 22 years ago and then got promoted to ticket agent. She spent numerous years stationed at Ronkonkoma.
Copiague is an unmanned station, she related, with ticket machines.
She made note that she doesn't like trends such at banks, where they expect customers to deal with ATMs.
"There's a lot of people who say they prefer the person," she said of her customers. "And if they have a complaint about the ticket machine I tell them they should purchase [at the ticket counter] first because I worry about [the machine] taking my job someday. For the most part there's a lot of good people around here."
Rognon said her work hours are 5:30 a.m. to 1:30 p.m. Asked if she was used to the hours she replied, "No. I appreciate that there's no traffic at that hour, but as I told my mom, 'I'll never get used to getting up at 3:30 a.m.' I have eight years until retirement. That I'm looking forward to."
Rognon is happy to be selling tickets again, but wishes there were more customers. In a recent press release, the LIRR noted that ridership on May 21 hit a record post-pandemic 110,100, but that was still 66 percent lower than the 2019 monthly weekday/Saturday/Sunday average.
"I hope I don't have to go through anything like this again," Rognon said. "We all feel that way. I was telling someone I was here for 9-11 and that was really horrible time. You talk about [the movie] Groundhog Day and things feeling repetitious. It's changing little bit, but it's nothing like I was used to. [COVID] took away your whole normal life. I know it's going to take some time, but I just hope there will be a day when we can be together like it used to be."
MTA spokesperson Renee Price said, "When stations shut down, the LIRR was able to work it out where ticket agents [became] station ambassadors. That's what they were called. Kim was at her station, but what she did was clean high-touch points and if a customer needed help she was there to answer questions, but she couldn't physically sell them tickets. This was part of the protocol to make sure employees and commuters were safe."
When the chance to be recognized by the Knicks came up, the press office employees thought of Rognon—touting her as dedicated and hard working and a very good representative for the MTA.
"She's very positive. She loves her job, She loves being around people. And the LIRR also decided she would be good candidate," said Price.
Currently, all of the ticket offices are open and staffed with ticket agents.